VoidX



Armor

450

Cargo hold

30

Primary weapons

4

Secondary weapons

4

Turrets

0

Equipment

15

Handling

155

Price

8,115,900$
In-Game Description
This Void fighter was immobilized and transported intact to Thynome, where it was modified for human pilots. No information has even been released about what happened to the original pilot.
Upgraded Stats
Upgrade
Upg.
to
Cost w/
VIP Card
Normal
Cost
Armor
490
1,623,180
3,246,360
Handling
175
1,623,180
3,246,360
Equipment
16
3,246,360
6,492,720
Cargo
60
2,434,770
4,869,540
 K  Upgrades are only available at the Kaamo station lounge.
Characteristics
This is the only ship that the Voids use. It is only available for purchase after all gold medals (Not including medals for Supernova) have been unlocked. This ship has the closest firing arc, with all primary weapons concentrated at the front and center of the ship's body. This allows for more accurate targeting of Primary weapons than other ships. A major issue of the ship is its horrible amount of cargo space, making it unsuitable for trading.
Trivia
It is the only vessel used by the Voids
The weapons used closely resemble the Berger Focus II A1, as both are long, pink lasers. In the HD version, they seem to be using the Berger Focus I.
The VoidX has the closest shot radius of any fighter
The VoidX has a similar design to a Kinzer .
Bugs
When using Polytron Boost while having equipped Pulsed Plasma Thrust, your field of view will be turned 180°, while controls remain normal. This can make it really hard to fly to a certain point without autopilot. Confirmed on Full HD(OSX)(only when controlling ship with mouse) and HD(IOS).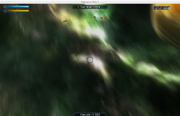 Gallery