The Terran Battlecruiser MK3 is the class of battlecruiser seen in Galaxy on Fire 3: Manticore . Little is known about these ships in regards to their strengths and weaknesses. They do tend to look damaged, however,  and this is probably due to the Shattering and is part of the design.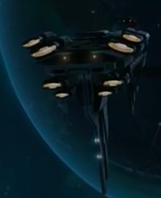 Ad blocker interference detected!
Wikia is a free-to-use site that makes money from advertising. We have a modified experience for viewers using ad blockers

Wikia is not accessible if you've made further modifications. Remove the custom ad blocker rule(s) and the page will load as expected.