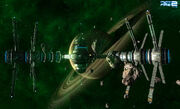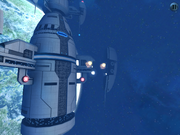 Spoiler Alert!
This article contains plot details about Galaxy on Fire.
First | Previous | Next | Last
Relocation
The events of the Supernova storyline begin directly following the events that occured at the end of the Valkyrie storyline. Carla asks Keith to take her to Thynome, which is in the Wolf-Reiser, system from Kothar, which is in the Beidan system, due to the fact that Kothar station is still being repaired from Alice's surprise attack at the end of the Valkyrie storyline.
At Thynome, Carla asks Keith to stay with her, and discusses house-related items, such as curtains. Keith, on the other hand, just wants to drink beer and for her to cook for him to stay.
This mission is just a cutscene, no combat is involved.
Ad blocker interference detected!
Wikia is a free-to-use site that makes money from advertising. We have a modified experience for viewers using ad blockers

Wikia is not accessible if you've made further modifications. Remove the custom ad blocker rule(s) and the page will load as expected.