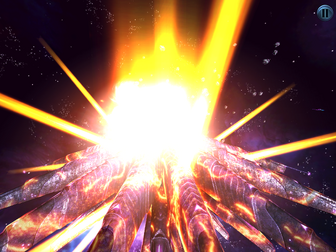 Description
Edit
The Shùma is an extremely powerful Nivelian-built bomb, enhanced by Deep Science. The bomb was originally made for destroying the Void Mothership, but the blueprints for this ultra-powerful weapon have recently been leaked onto the Black Market. The bomb may be time-consuming to produce, but the damage given off is capable of destroying entire stations!
Origin- Nivelian/Terran
Damage- 6400
Speed-200 km/h
Range- Infinite until collision
Firing rate- Every three planets visited (in at least 2 different systems).
Blueprint
Edit
Price: 2,576,429$
200t Explosives
135t Nanotech
50t Comm. Devices
88t Titanium Core
50t Plastics
20t AMR Extinctor
50t Electronics
75t Radioactive Goods
This is the bomb used to destroy the Void Mothership.
This is the only weapon capable of destroying stations.
This bomb was thought up by the Wiki user Gunant Breh.
When the bomb explodes, the station destroyed become similar to the debris at Luur and Valpatro.