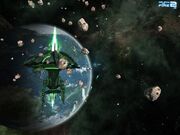 Description
Edit
K'mirkk station is located in the Y'mirr system. The Y'mirr system is a hidden Vossk system with high tech level stations.
The station, in which the Mass Driver MD 10 blueprint can be found.
It has a wide variety of commodities, equipment and weapons, which makes it good for purchasing goods without the excessive prices at Loma.
Despite the "K'mirkk" in the planet's name, the K'mirkk Toad Mutagen is not sold here, but instead in the Me'enkk system.