No Title
250pxpx


Faction

Terran

Tech Level

1

Space Lounge

Yes
Description
Edit
Gome C is a small tech level 1 planet that differs from typical Terran station design. It consists of a small almost globe-like base and a large communications array on top. It is connected to another tower by a bridge,that tower has 3 long cylindrical columns belived to be living quarters for space travelers, traders and all walks of life. 
Gome C is home to Cesogen, Gold, Hypanium, Iron and Perrius.
The 3 towers contain the Space Lounge.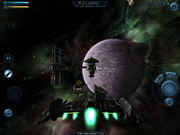 Ad blocker interference detected!
Wikia is a free-to-use site that makes money from advertising. We have a modified experience for viewers using ad blockers

Wikia is not accessible if you've made further modifications. Remove the custom ad blocker rule(s) and the page will load as expected.