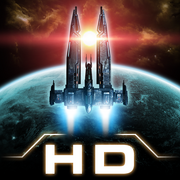 Galaxy on Fire 2 HD is a new alternate version of Galaxy on Fire 2, developed specifically for the iPad 2 and up, iPhone 4S and up, and iPod Touch 5th Generation and up. The entire game has been remodeled with stunning new high-resolution 2048x2048 graphics, and includes a retina display for the New iPad. New lighting, OpenGL, shading, and special effects have also been added which give the game more in-depth realism. The app icon as well, also has improved resolution.
Because of its excessive use of High-Definition, Galaxy on Fire 2 HD often crashes for devices older than the iPad 2, iPhone 4S, and iPod Touch 5.
The download time for the game is long, and could take approx. 1 hour if you have slow connection.
Comparison Gallery
Edit
Ad blocker interference detected!
Wikia is a free-to-use site that makes money from advertising. We have a modified experience for viewers using ad blockers

Wikia is not accessible if you've made further modifications. Remove the custom ad blocker rule(s) and the page will load as expected.