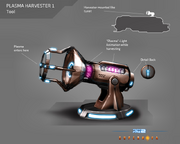 Plasma Collectors are special devices which are mounted to the space ships like turrets and used to harvest valuable plasma from gas clouds.
 S  - Only available in the Supernova Add-on.
 K  - Must be purchased from Jakk Zoboon at Kaamo
Plasma
Collector
Tech
Lev.
Hand-
ling

Speed
Magni-
tude

Range
Low
Price
High
Price
PE Proton

 S 

9
125
1300 km/h
80%
4000 m
42,164
43,856
PE Ambipolar-5

 S 

9
150
1400 km/h
80%
5000 m
110,954
115,169
PE Fusion H2

 S 

 K 

9
200
1500 km/h
100%
6000 m
607,889
631,720
Pages in category "Plasma Collector"
Ad blocker interference detected!
Wikia is a free-to-use site that makes money from advertising. We have a modified experience for viewers using ad blockers

Wikia is not accessible if you've made further modifications. Remove the custom ad blocker rule(s) and the page will load as expected.