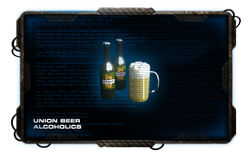 Booze
consists of all alcoholic beverages seen in
Galaxy on Fire 2
. They vary widely in price, and are always cheapest at the system of their origin. They are most useful in the early-to-mid game for profitable trading.
All booze are Tech Level 1 commodities, so it is possible to find them on any station. It is however, almost more common to find them in the cargo holds of other ships, especially those belonging to pirates.
Description
Edit
Alcoholic beverages always sell well; each beverage is named after the system where its produced in, where its price is lowest and where it is normally most available.  The further a system is away from the named system, the higher the price tends to be.
Image
Beverage
Named
System
Price
Highest Sale


(non-Loma)

Loma
Price
Price
at System

Aquila Cocktail
304
684
Her Jaza
680

Augmenta Fizz
977
1,839
Ni'mrrod
1,846

Behén Wine
756
1,698
Ni'mrrod
1,705

Buntta Apéritif
248
329
Beidan
329

Eanya Tonic
202
405
Ni'mrrod
407

K'ontrr Dishwater
550
973
Eanya
977

Magnetar Juice
251
509
Pan
511

Mido Distillate
431
683
Ni'mrrod
701

Nesla Brandy
246
348
Ni'mrrod
353

Ni'mrrod Muck
485
874
Eanya
876

Oom'bak Gin
110
217
Eanya
218

Pan Whiskey
466
661
Aquila
667

Pescal Inartu Brew
671
1,384
Mido
1,384

Prospero Flip
250
390
Pan
392

S'kolptorr Rum
233
487
Eanya
503

Suteo Liqueur
135
204
Wolf-Reiser
204

Union Draught
100
186
Pan
Pescal Inartu
Ni'mrrod
186

V'ikka Moonshine
226
336
Eanya
338

Vulpes Soup
379
563
Eanya
563

Weymire Punch
839
1,761
Ni'mrrod
1,762

Wolf-Reiser Brandy
95
212
Pan
212

Y'mirr Schnapps
85
215
Eanya
215
None of the newly introduced systems in the Valkyrie or Supernova DLCs have their own type of booze.
Vulpes has a soup as its alcoholic beverage although soup isn't normally classified as alcohol.
M'Kali Slime is mentioned by Mkkt Bkkt, but is not avaliable in-game, and is never mentioned again.
K'ontrr's alcohol beverage is Dishwater, which is clearly not alcoholic.
Augmenta Fizz is the most expensive alcohol... and it looks like soda

Ad blocker interference detected!
Wikia is a free-to-use site that makes money from advertising. We have a modified experience for viewers using ad blockers

Wikia is not accessible if you've made further modifications. Remove the custom ad blocker rule(s) and the page will load as expected.