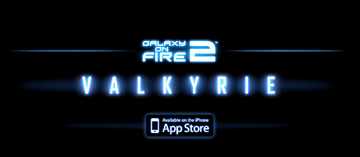 The 1.0.4 update is the second update for Galaxy on Fire 2 HD. The update was released on March 8, 2012.
New Features
Edit
Valkyrie HD- Buy the spectacular first add-on for Galaxy on Fire 2 HD via in-app purchase and get access to tons of new content, features and missions. As a courtesy to our loyal fans you can even unlock Valkyrie HD for free, if you have the standard version of Galaxy on Fire 2 (SD) installed on your device!
Kaamo Club- Buy your own space station in the notorious Shima system and stag all kinds of illegal goods as well as additional space ships
Languages- Completely overhauled Chinese localization
Add-on Restore- New button added in the add-on menu, which enables you to restore your in-app purchases with one click after you've updated or re-installed the game
Bug Fixes
Edit
Turrent Bug- Projectiles now displayed correctly
Credits Bug- Credits can now be purchased
Ad blocker interference detected!
Wikia is a free-to-use site that makes money from advertising. We have a modified experience for viewers using ad blockers

Wikia is not accessible if you've made further modifications. Remove the custom ad blocker rule(s) and the page will load as expected.